Small Group Tours of Italy Limited to 12 Guests
Experience Italy with our small group tours and take a journey of discovery! Our carefully crafted itineraries are expertly guided, providing an intimate and unforgettable vacation with no more than 12 guests.
Dive into beautiful landscapes and relish in the cultural and historical gems of the Country where we were born, and raised. We currently live and work in Italy where we can monitor the quality of our tours, inspect new venues, and update our itineraries.
That's why we pride ourselves on a detailed knowledge of the Italian territory developed in over fifteen years of operating in this industry.  As a result, our tours provide an in-depth focus on specific regions combining less touristy areas with some popular spots.
Our mantra is "less is more", referring to travel in style, to slow-paced itineraries with enough time to breathe and take in the destination. We avoid rushing from site to site with long bus rides in between.
Personal Approach on our Small Group Tours
Being limited to only 12 guests, our tours gain access to remote farmhouses, small restaurants, scenic routes, and other off-the-beaten-track experiences where large groups can't fit.
Get to know local cheese refiners, passionate winemakers, and families of farmers who carry on the tradition. At the end of each day, you will feel like a local, not like a tourist!
When we visit large cities like Milan, Florence, or Naples, skipping the lines and avoiding crowds in the busy pedestrian areas gets much easier because of the limited number of guests in our groups. We visit hidden gems in a safe, friendly, and pampered way.
Enjoy Authentic Experiences and Local Cuisine
Experience Italy with our Small Group Tours and step away from the tourist crowds. Come like a local, enjoying authentic activities, meeting local hosts, and indulging in delicious regional cuisine.
Our experienced tour guides will show you off-the-beaten-path venues full of local charm, giving you a deeper understanding of Italy's culture and history. Built around flexibility and freedom, our small group tours help make the most out of your time here.
Grandma-Like Authentic Meals and Michelin-Starred Chefs
What is a trip to Italy without great food? One of the things that our guests take home for good is that the definition of "Italian food" does not exist.
Italy is made up of 20 regions and each of them is almost like a separate world, with its own culture, traditions, dialect, and food!
When you travel with Meet Piemonte, be reassured that a lot of energy and generous budgets are put in place to provide authentic culinary experiences that showcase the food specific to the region that we visit.
We love exposing our guests to contrasts, one night in a family-owned trattoria where grandma's recipes are still prepared with dedication. Then, the next night we are off to a fine dining experience.
We try to include in most of our trips at least one Michelin-star dinner where local and seasonal ingredients are presented with a twist of creativity. And that is usually a chance to dress up a bit for a night and enjoy five-star service!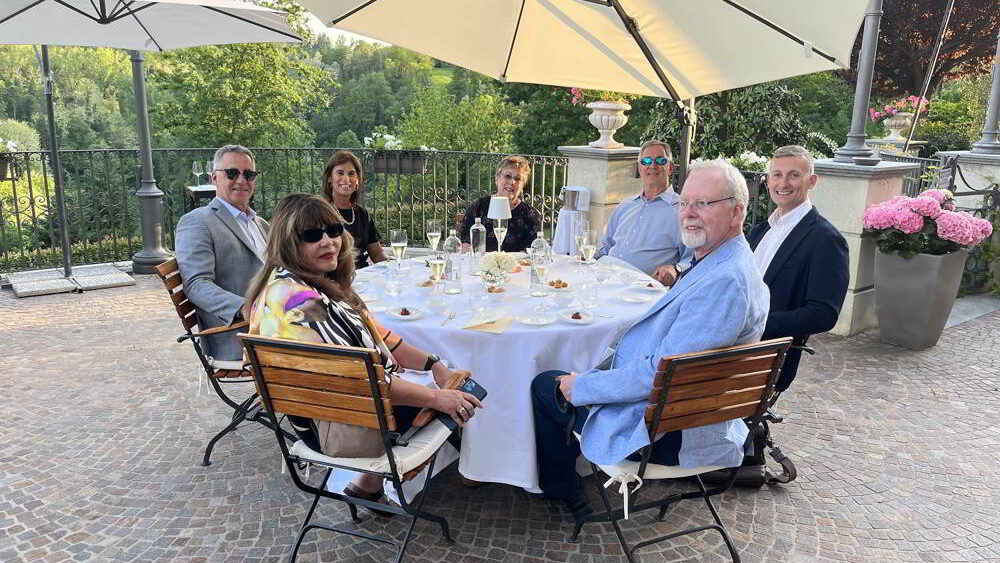 Experience Italy with our Small Group Tours in Boutique Hotels
Our small group tours include stays in handpicked, high-end boutique hotels across Italy. From Tuscan villa-style accommodations to intimate historical buildings, each hotel is carefully selected to provide you with an authentic Italian experience whilst allowing you to kick back and relax after a long day of exploring.
We make sure that our guests have enough time to enjoy these beautiful boutique hotels with some leisurely mornings and longer hotel stays, avoiding wasting time packing and unpacking.
A Balcony directly on Lake Como
For our Lake Como, Piedmont & Portofino Tour we secure far in advance the few rooms available in one of the very few boutique hotels built right on the water.
Even luxury five-star hotels on Lake Como tend to be quite far from the water. Sometimes, the only busy road that goes along the lake separates hotels from the lakeshore. On the contrary, we make sure that our guests can benefit from rooms where the only noise is the lake's waves.
Most rooms feature even a small balcony where guests can watch the sunset after a day out or sip coffee in the morning.
Exclusive Sea-View rooms in Positano
Guests who previously joined our Naples, Positano & The Amalfi Coast Tour agreed that the view from their hotel room was an unbeatable ​plus.
With five nights in the middle section of town, where only smaller vehicles can get, guests get to experience what Positano is all about. These rooms would cost much more to the independent traveler and we have to make sure to secure them over a year in advance, considering how small the hotel is.
The colorful ceramic tiles and the traditional décor of the room make guests feel the destination from the very first moment when they open their eyes in the morning.
Moreover, one can sit on a balcony and admire the maze of steep staircases and narrow alleys that run down toward the beach.
While Sorrento and the Amalfi coast boasts a large range of hotels, only a few visitors get to sleep in Positano, while most tourists come here only for a few hours during the day. Waking up and enjoying the sunset in one of the most spellbinding towns of Italy is for sure one of the unbeatable values of our tour to Positano.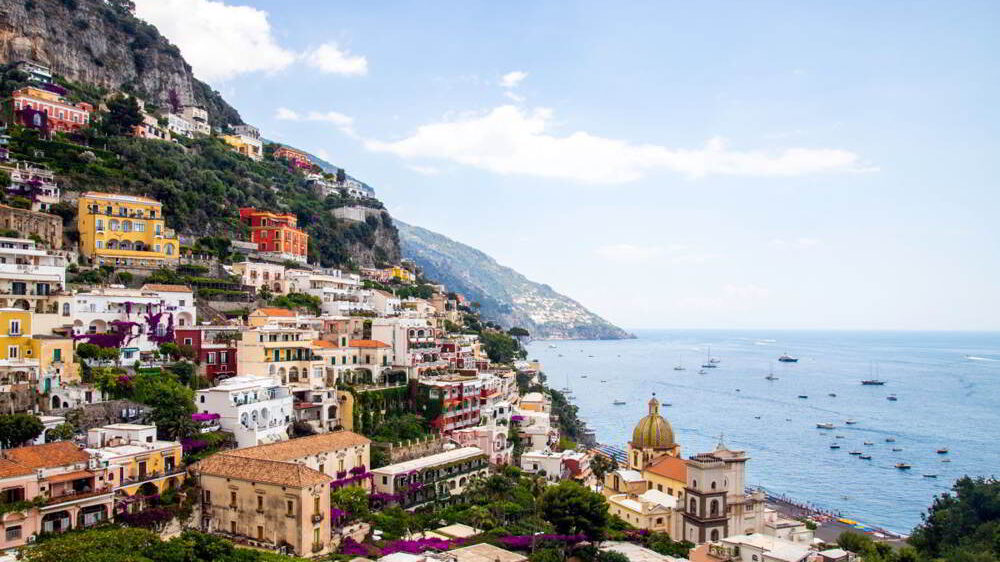 A Century-Old Tuscan Villa 
In our Grand Tour of Tuscany, one of the main highlights is spending ​four consecutive nights in a luxurious villa where our group of ​twelve guests takes most of the rooms.
​Our home is a century-old villa, renovated with ​great care of detail ​and surrounded by olive trees and vineyard​s. This is the departure point to explore the towns of Montalcino, Pienza, ​Bagno a Vignoni, and other hidden treasures.
​Here and there we leave time without scheduled activities so​ that each guest can decide to ​experience the villa at their own pace. Some ​guests rent an electric bike and follow our tour guide on a ride on the rolling hills of Tuscany. Some enjoy a late breakfast and read a book by the pool.
This is what we call a vacation: a guided tour of Italy with hours of free time to do what is important to you.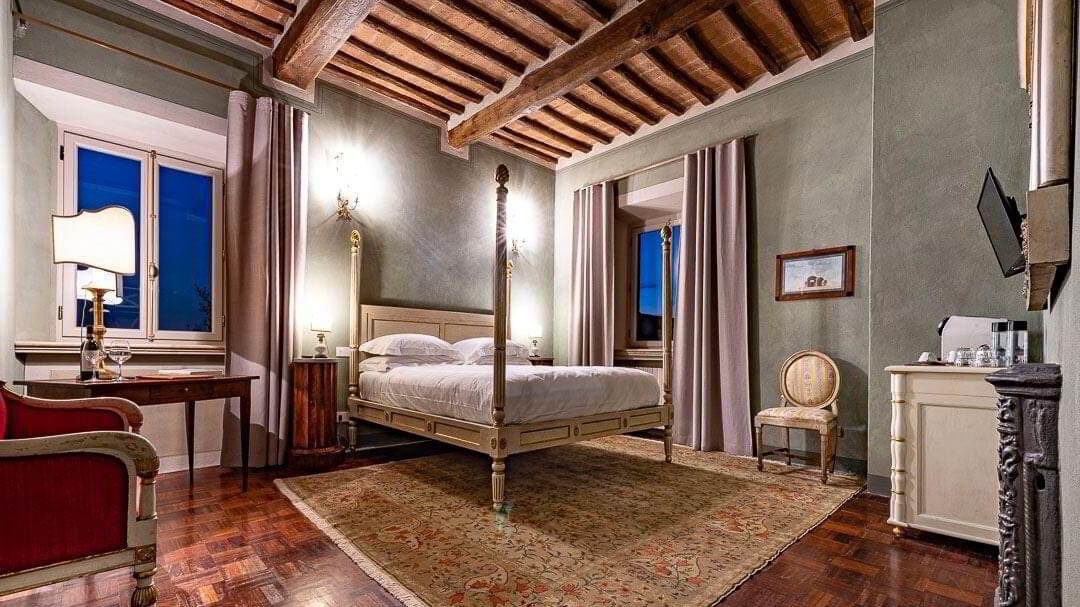 The Value of our Small Group Tours of Italy
A tour is made of several components like accommodation, transportation, guides, etc…
Many of these costs are fixed, meaning they don't change according to the number of participants. Therefore, if one expense gets split among many people it will be cheaper for everyone. There is a reason why most travel companies out there do their best to fill in a 50-seat bus!
Here at Meet Piemonte we strive to find the right balance between delivering an intimate experience and sharing fixed costs with a few other guests.
Experienced independent travelers know that if you try to book on your own every single service included in our small group tours, the final price would be much higher!
We pride ourselves on including not only ​luxurious services and unique experiences but a full-time experienced tour guide. Available throughout the entire tour, he/she provides commentary along the way, the point of view of being Italian, and, in case of need, assistance for all sorts of issues.
Experience Italy with our Small Group Tours and you'll realize that the real value of our vacations is much higher than the price paid for.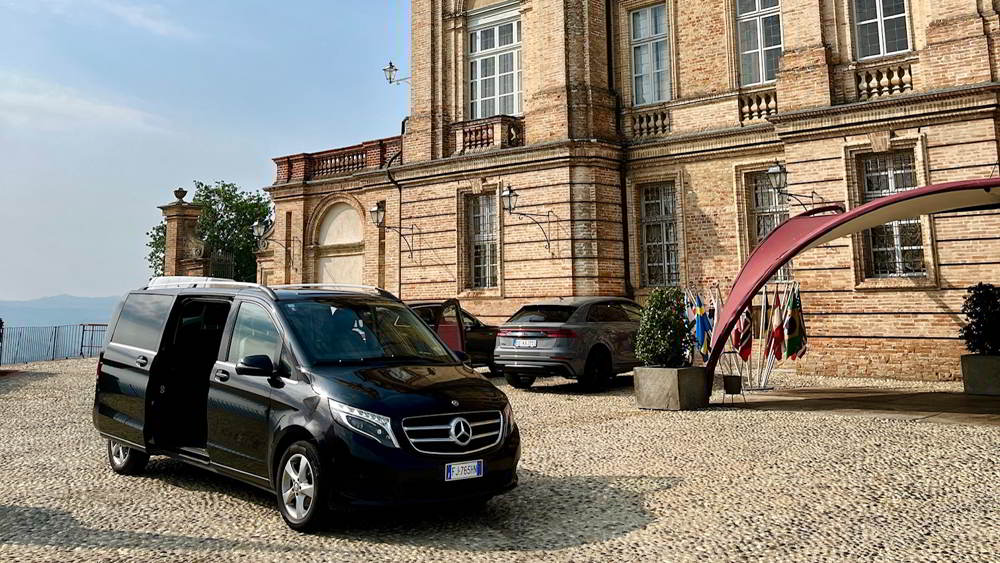 Pre-Trip Assistance throughout the Planning Process
In addition to the information regarding the specific tour that our customers intend to book, we provide them with tons of information regarding Italy and international travel requirements.
In 2021, when international borders were reopened after the pandemic but strict travel requirements were in place, we constantly monitored the situation.
We kept our guests informed of both the paperwork and certificates required to enter Italy as well as the requirements needed to travel back home. We arranged free-of-charge trips to testing facilities at the end of the tour.
When booking a small group tour of Italy with Meet Piemonte, guests get personal attention from the first video call until the last paperwork is sent before the beginning of the tour.
Many customers who joined our tours in the past, benefitted from expert travel advice to extend their vacation in Italy. We arrange pre and post-tour extensions and customized tour packages.
Nonetheless, we provide our customers with a detailed guide full of information, tips, and suggestions about all things Italy: even seasoned travelers find it a helpful reminder about those cultural differences that can add stress to the vacation if not handled properly.
We want our guests to enjoy Italy at its fullest, with zero stress! Everything is taken care of from trip logistics, to things to know to survive in Italy on your own.