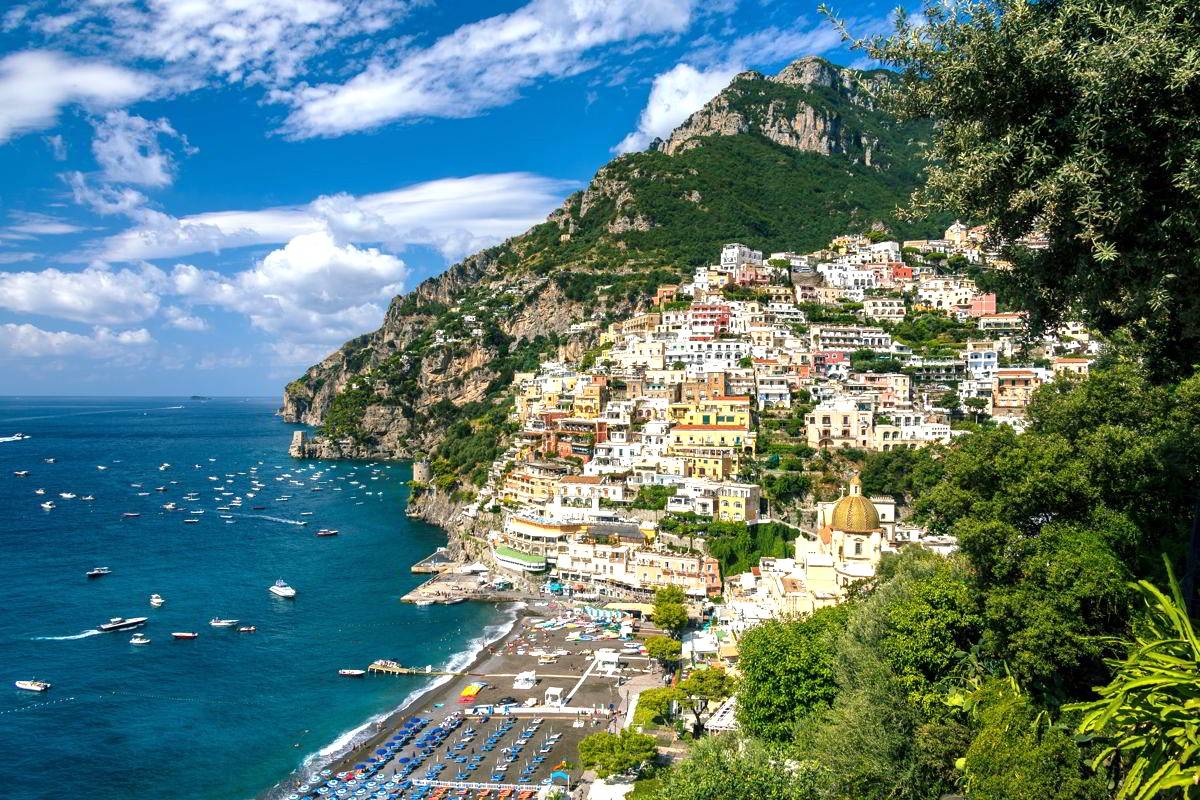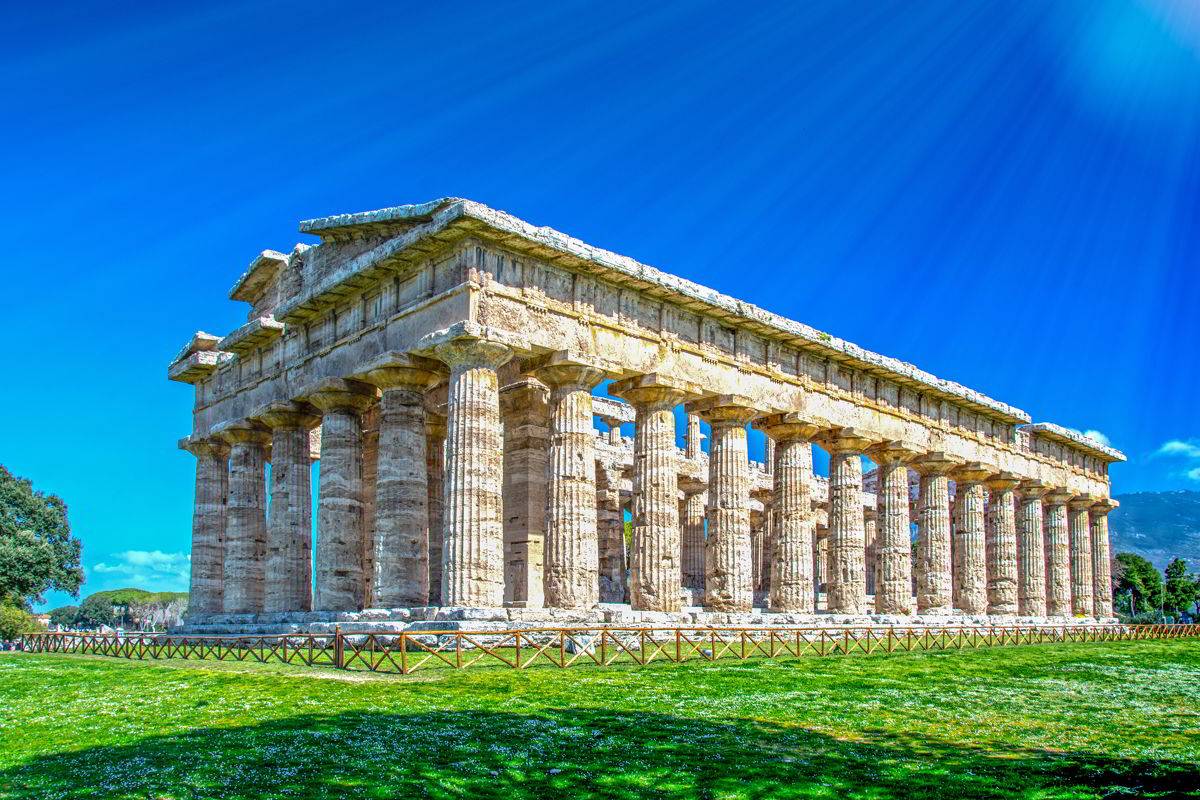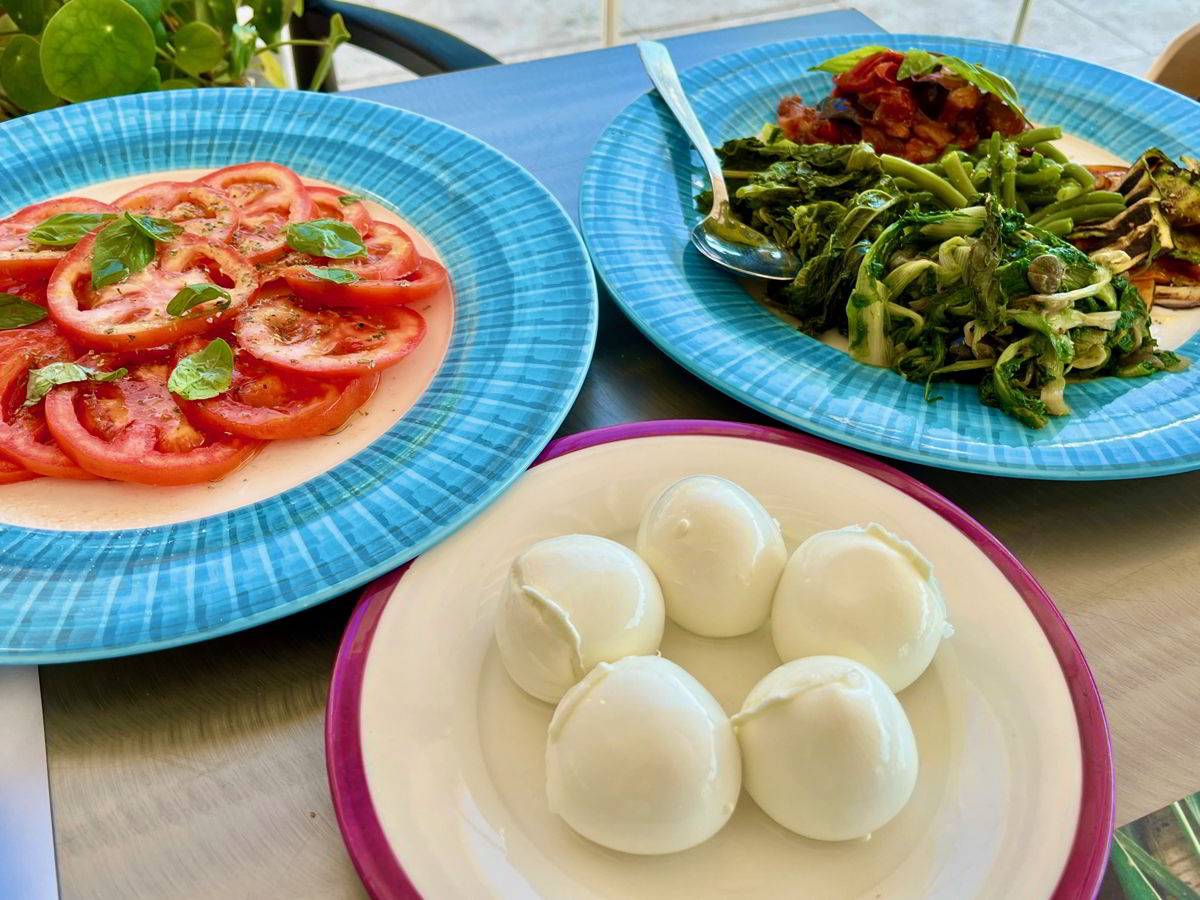 naples-positano-amalfi-coast-tour
amalfi-coast-greek-temple
amalfi-coast-winery-dinner
mozzarella-farm-tour-italy
mozzarella-tasting-amalfi-tour
naples-positano-italy-tour
The Ultimate Italy's Vacation to Positano & The Amalfi Coast
Naples, Positano and The Amalfi Coast Tour is a 8-day, small-group Italy's vacation limited to 12 guests only.
Discover the exciting vibe of Naples' street food scene and spend five nights in sea-view rooms of a charming boutique hotel in the heart of Positano.
Marvel at the ruins of Pompei and admire the Greek temples of Paestum; join a gastronomer in a foraging trekking and cook your al-fresco lunch on a terrace overlooking the Amalfi Coast.
Toast with Prosecco on a private boat on the way to Capri, stopping in hidden coves for a refreshing swim in the blue water of the Mediterranean.
Visit two wineries set in jaw-dropping locations and indulge in the affordable luxury of our spellbinding tour of Naples, Positano and The Amalfi Coast.
small group 6-12 guests only
8 days / 7 nights. From/to Naples
2 nights in Naples (4-star hotel) + 5 nights in Positano (sea-view deluxe rooms in boutique hotel)
Private boat ride to Capri with the chance of swimming in the Mediterranean
Visit Pompei, Paestum (Greek temples), Amalfi, Sorrento
Food tour in Naples and dinner in a historic pizza restaurant
Foraging trekking and cooking class on a terrace overlooking the sea
Lunches in a mozzarella farm and in a winery on Mt. Vesuvius
Dinner in a winery set on the slopes of the Amalfi Coast
Italian friendly and knowledgeable Tour Manager who takes care of all logistics
May 10th – 17th 2024
The tour starts on Friday May 10th 2024 in Naples, Italy
The tour ends Friday May 17th 2024 in Naples, Italy
2 nights in Naples, in an elegant, centrally-located 4-star hotel (superior rooms)
5 nights in Positano, in a charming boutique hotel (sea-view deluxe rooms)
The tour is confirmed with at least 6 participants
A 30% down payment is required in order to confirm the reservation.
The remaining balance is due 45 days before the tour.
The Customer has the right to withdraw, without providing any reason, under the following conditions:
There shall be a 250€ non-­refundable processing fee (per person) on any cancellation request, regardless of the time frame within which the cancellation is submitted;
From 90 days to 46 days before the performance of the Tourist Package, by paying a penalty equal to 30% of the price;
From 45 days before the performance of the Tourist Package, by paying a penalty equal to 100% of the price
COVID CLAUSE: any payment previously sent to Meet Voyager (except for the 250€ processing fee) can be fully refunded only in case of new travel restrictions (lockdowns or border closure) imposed by local Governments (in Europe or in the Country of origin of Customers) as a consequence of the spread of the COVID pandemic. Alternatively, the Customer can ask to Meet Voyager, in writing, to hold that sum for future travel dates.
Meet Voyager is not responsible for costs associated with testing positive to Covid-19 before, during or after the tour and for any delays or change of travel plans or quarantine caused by the results of such testings or by the lack of proof of tests or vaccination required to travel
Read here the full terms and conditions.
Amalfi coast tour
Judy F. – September 2022
"I can't imagine doing this tour by ourselves. Driving in this part of Italy is truly a nightmare and our driver was so good at it considering that the logistics getting in and out of Positano were complicated to say the least. Every single day was filled with a surprise and the one thing that I will never forget was the view from our room."
Thank you for this dream vacation
Patrick W. – September 2022
"My wife and I joined a group of friends on the tour of Naples and Amalfi. We were skeptical about going to Naples after hearing many bad stories, however the way Marco took us around made us feel safe at all times and we really enjoyed the atmosphere of the city. Our hotel had an interior courtyard and we couldn't hear the traffic despite being right in the middle of everything. Positano was a dream come true, from the view of our room to the cooking class with Jacomo, the boat to Capri, the food, it is hard to pick one highlight. We will come back!"
Read all reviews on Tripadvisor and on Google
Meals included: dinner

Arrive on your own to Naples' airport and jump on one of the inexpensive white taxis for a short ride (20 minutes) to the city center.

Your home for the next 2 nights is in an elegant 4-star hotel, an oasis of peace, steps away from Naples's major attractions.

Late afternoon, join your Tour Manager for a first walk through the little lanes of one of the storied neighborhoods. We end in an historic wood-fired oven of the city where we celebrate with delicious pizza the beginning of our tour .
Meals included: breakfast and food tour (light lunch)

This morning follow our local guide for an introduction to the folk traditions and to the flourishing art scene that makes Naples a city like no other in Italy.

Our destinations are the vibrant Spanish Quarters and a local food market to sample street food as locals do. We visit a fish stall where deep fried seafood is served in the typical cone-shaped cuoppo. Then we are off to try taralli, a traditional preparation with escarole, stuffed pastries and much more.

This afternoon is yours to explore the buzzing capital of the Mediterranean at your own pace. Maybe you can join an evocative tour of the underground tunnels or visit the Royal Palace (not included). You can also decide to rest a bit in your hotel room before going out again tonight and try one of the cozy restaurants suggested by the tour manager.
Meals included: breakfast and lunch

After breakfast, say goodbye to Naples and transfer on a private small bus at the foot of the Vesuvius to the archaeological site of Pompei.

Take a step back in time with a knowledgeable and expert local guide and discover this former Roman city buried by volcanic ash after the devastating eruption of 79 A.D. Walk through the ruins of villas decorated with frescoes and mosaics as you learn how Romans used to live before the dramatic event that killed thousands of people.

Today's lunch is served in a winery located on the slopes of Mt. Vesuvius, whose rich soil full of minerals is key in the production of local traditional wines such as Aglianico, Pedirosso and Lacryma Christi.

Later, drive along the breathtaking Amalfi Coast to the charming village of Positano that has inspired generations of celebrities and artists. From your exclusive sea-view room take in the beauty and admire the maze of steep stairs and alleyways below.

Tonight, dinner is on your own so you can enjoy at your own pace one of the seafood restaurants near the hotel.
Meals included: breakfast and lunch

Late morning, meet a local gastronomer for an informative foraging trekking through private gardens, lemon orchards and rustic countryside homes reachable only on foot.

We harvest aromatic herbs, fresh basil and some seasonal vegetables before reaching a covered terrace with 180° panoramic views over the Amalfi Coast. Here, we cook some traditional recipes with selected ingredients coming from local food purveyors.

Enjoy your al-fresco lunch surrounded by incredible views that will conquer your senses.

This afternoon we keep driving along the coast spotting private villas, colorful bougainvillea and rock formations, all the way to the town of Amalfi.

Indulge in a tasting of locally-made limoncello and enjoy some shopping time in the narrow streets and piazzas lined up with paper shops, cafes, souvenirs and more.

Dinner is on your own in Amalfi before driving back to Positano.
Meals included: breakfast

Many tourists go to Capri but very few get to do it with a private boat *. Meet your captain in Positano and board our private boat: you can decide if you want to lay on the bow under the sun or if you prefer to sit in the shade of the back. Either way, enjoy the jaw-dropping views of hidden inlets along the Amalfi coastline. Later, we reach the southern coast of the island of Capri with its numerous colorful grottos and evocative rock formations.

We sail to the iconic Faraglioni and you'll get a chance to swim in a quiet bay, away from crowds. Towels and a refreshing glass of Prosecco are provided!

After docking in Capri, follow your tour manager in the upper town for an introductory walk and spend your free time at your own leisure: maybe a lunch in one of the exclusive restaurants or a hike to the remains of Villa Jovis, once the favorite spot of Roman Emperor Tiberius.

You will be enchanted by the rose gardens spilling over elegant villa walls just steps away from the glamorous fashion shops.

Return to Positano in the late afternoon and enjoy dinner on your own.

*In case of rough sea conditions, for everyone's safety and well-being, the ride to Capri may be arranged with a public ferry boat (without the chance of swimming and to visit the Faraglioni). In case of bad weather, the Capri excursion will be replaced by another land-based activity. No refunds will be given in either case.
Meals included: breakfast, light lunch and dinner

This morning enjoy a drive to the southern Campania region with its fertile crops and numerous stables of buffalo cows.

Visit a well-established organic farm where every day the world's famous mozzarella cheese is produced by hand, piece after piece. Sit at the table for a fresh light lunch with a selection of cheese, salad and homemade bread.

This afternoon, meet a friendly local expert in the nearby archeological site of Paestum, where Greek Temples are better preserved than those in Greece! The tour will include a look at the adjacent museum where the iconic "tomb of the diver" is kept.

Relax onboard our small bus as we drive back toward the southern tip of the Amalfi Coast. Meet local host Patrizia who proudly manages her family's vineyard and lemon grove perched on a slope overlooking the Mediterranean.

Tonight, Patrizia's mouth-watering dinner is paired with the DOC Amalfi wine, served under a pergola overlooking the coast and the sea.

Return to Positano after dinner.
Meals included: breakfast and dinner

A vacation in Italy wouldn't be the same without some time off to take in the beauty of the destination and the chance to relax.

Enjoy the day reading a book on the balcony of your room or walk down to the beach.

Choose among Positano's linen fashion, art galleries and seaside restaurants, your own way to celebrate the Italian lifestyle.

Later, meet your tour manager and drive to Sorrento for a late-afternoon stroll along Corso Italia and enjoy an aperitivo.

Toast with your new friends in a local restaurant to the end of Naples, Positano and The Amalfi Coast Tour.
Meals included: breakfast

After breakfast, a group transfer is arranged to Naples's airport. Flights should not be booked before 11am. Individual transfers are available on request, for an additional fee.

Arrivederci!
Book now the Naples, Positano and The Amalfi Coast Tour
May 10th -17th 2024:

OPEN

4480€ per person, double occupancy

EARLY BIRD

150€ off per person book by March 15th 2023 (4330€ per person, double occupancy)
single supplement on request
For private departures, please fill in the form below or send an email to info@meetpiemonte.com
2 nights in superior room, in centrally-located 4-star hotel in Naples, breakfast and porterage included
5 nights in sea-view deluxe room, in boutique hotel in Positano, breakfast and porterage included
private luxury minivan throughout the tour (as per itinerary), with permits and parking included
tour manager for 8 days (fully-escorted tour and 24h assistance while on tour)
Pizza dinner in historic restaurant in Naples, wine included
Food tour in Naples with local guide
Tickets and reservation for Pompei archeological park and local guide for 2 hours
Lunch in a Winery on Mt. Vesuvius paired with wine tasting
Foraging trekking with a gastronomer, cooking class and lunch with wine included
Private boat to Capri, towels, drinks, dock tax (subject to sea conditions) or equivalent excursion in case of bad weather
Light lunch in an organic mozzarella farm
Tickets and reservation for Paestum archeological park and local guide for 2 hours
Dinner in a Winery on the slopes of the Amalfi Coast paired with wine tasting
Aperitif and dinner in Sorrento, wine included
VAT 22%
Tour Operator limited liability insurance
Assistance throughout the planning process and travel tips
Hotel City Tax (between 3 to 5€ per person per night)
Personal travel insurance
Airfare to/from Italy
Transfer to the hotel on day 1
Any other meal, tasting, entrance fee, transfer, personal expense, tips and anything else not mentioned above in the field "The rate includes". The wine included is the one presented during the meal or wine tasting and it is never unlimited. Any extra is at each guest's discretion.