Piedmont bike tour in Italy
A Piedmont bike tour in Italy is one of the best ways to enjoy the beauty of the region. Join one of our cycling tours in the wine region of Piedmont, wandering around tranquil hamlets and castles nestled amongst vineyards.
Take in outstanding views of the Alps from the winding bike tracks of the Langhe and Monferrato hills, a UNESCO World Heritage landscape.
Bike tracks of Piedmont, in Italy
We handpick bike tracks on rolling hills, through hazelnut groves and on wine routes with less traffic.
Our cycling holidays are designed on scenic bike tracks of Piedmont, in Italy and they feature visits to renowned boutique wine cellars to indulge in premium wine tastings.
A bike tour in Piedmont is the chance to linger over traditional dining and enjoy some time to explore wine stores and simply enjoy the beauty of northwest Italy.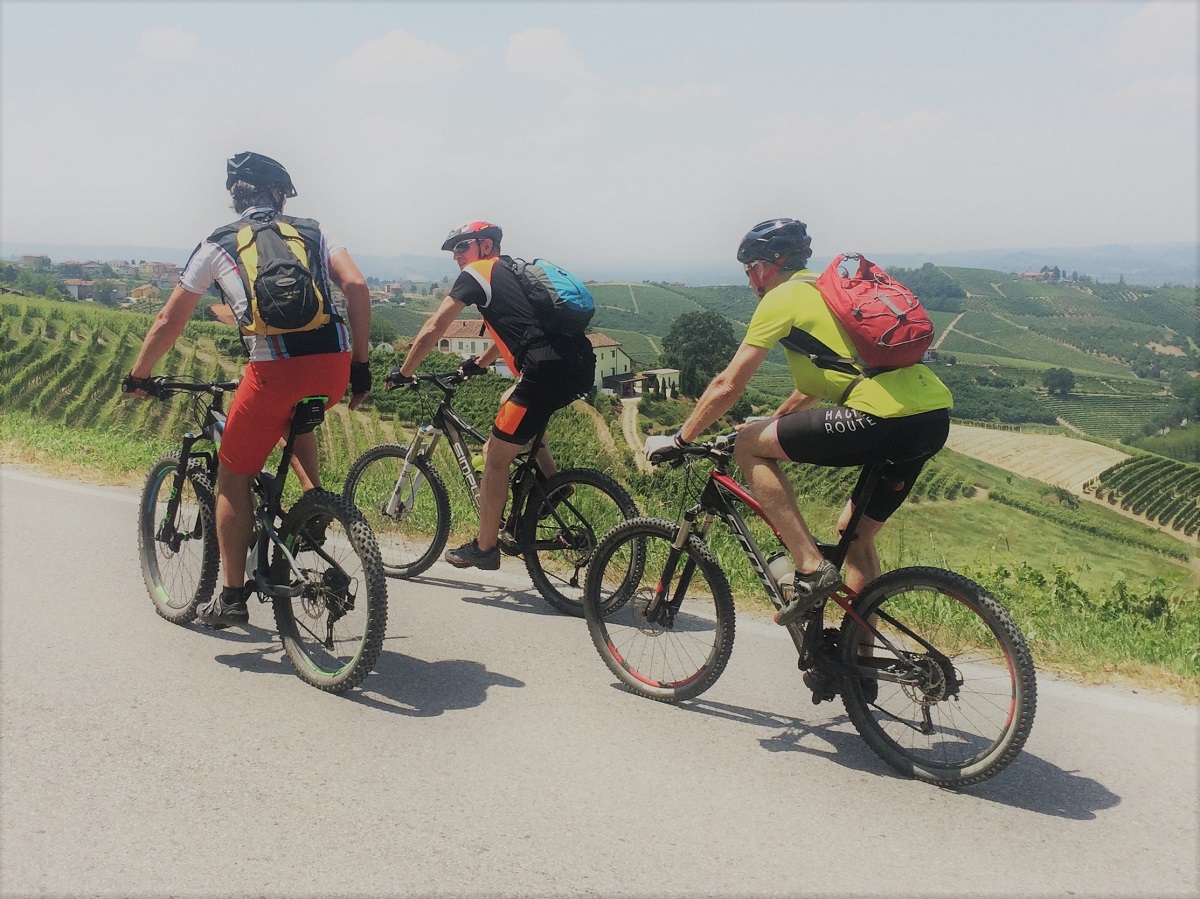 5 days/4 nights | 780€ per person
One hotel stay in Alba or Barolo. Electric bikes, tour guide, dinner, wine tasting
8 hours | 95€ per person | Self-guided
From Alba, ride the ebike to a winery of the Langhe hills. Collect a full picnic lunchbox with a bottle of wine
Cycling holidays in Piedmont
Make your cycling holiday in Piedmont a perfect one. We offer the choice of different types of bikes, from carbon road bikes ideal for the avid biker to e-bikes which guarantee an effortless experience even uphill.
Go custom and let us build your perfect bike tour, according to your needs and whims. From luxury hotels to cozy country-chic farmhouses, tell us your expectations and let us arrange the luggage transfer from hotel to hotel, unless you prefer a one-hotel stay for the entire vacation!
Download our recorded itineraries available on several apps and GPS devices or follow one of our expert tour guides who provide mechanical support and become friendly traveling companions.
Cycling holidays in Piedmont are more than a simple bike tour. When you visit Piedmont you step in a region where food and wine are among the most refined of Italy.
Follow our bike tracks which include wine tastings and culinary experiences to enrich your biking experience.