Discover the Top 11 facts about Barolo Wine and explore the world of this Italian favorite, from its grape variety to its aging process.
Barolo is a world-famous Italian wine known for its deep, intense flavor and its lengthy aging process. This high-end red has been prized by wine critics around the globe since it was first developed in the 1800s. Here are the top 11 facts about Barolo wine that can help you appreciate this unique product even more.
1 – What is Barolo wine?
Barolo wine is obtained by harvesting, pressing, fermenting and aging Nebbiolo grapes. No other grape varietal can be blended to make Barolo wine.
The minimum alcohol content is 13% (but most vintages exceed such percentage) and the Barolo wine must be aged at least 38 months in oak before reaching the market. A minimum of five years of aging is required for the Riserva.
According to DOCG regulations, this red Italian wine must age for a minimum of 38 months before being released onto the market. During this aging process, Barolo is aged in oak barrels either large or small toasted French barriques. This slow, long process is essential for making the best quality bottle of Barolo wine.
2 – What is special about Barolo wine?
Barolo wine stands out for its garnet color with a light red hue and orange reflections.
It has layers upon layers of aromas and flavors that span from a floral nose of rose petals to red berries, tar, coffee, chocolate and earth. Its harmonious taste recalls raspberry jam, cinnamon, licorice, and leather.
Tannins, which are typical of Nebbiolo, can evolve and become smooth with the aging while the perception of the oak, in which the wine is aged, depends on the type of barrel used. For a more complete understanding about the type of oak barrel used within the Barolo wine region, read here.
Barolo is classified as one of Italy's highest quality wines with a Denominazione di Origine Controllata e Garantita (DOCG) designation. This moniker describes the specific geographical area, wine-making methods and grape varieties used for winemaking. In the case of Barolo, Nebbiolo grapes must be grown in certain areas of Piedmont (see below), followed by minimum aging requirements before it can be given the classification.
3 – Where is the Barolo wine region?
Barolo hails from the Langhe region in northwest Italy, south of Turin. It is located in the Piedmont region of Italy and more precisely in the province of Cuneo.
About two hours by car from Milan and one hour from Turin, the Barolo wine region can be reached by car, train or helicopter.
This territory was firstly defined by a decreet on August 31st 1933 and it includes eleven municipalities: Barolo, which gives the name to the wine, is in the middle of it. The other villages are La Morra, Monforte, Serralunga d'Alba, Castiglione Falletto, Novello, Grinzane Cavour, Verduno, Roddi, parts of Cherasco and Diano d'Alba.
Being just a few miles west of Alba, the Barolo wine region can be explored with our Barolo Wine Tour or with our day trip Barolo & Barbaresco with the Winemaker as part of a vacation on the Langhe hills.
The Langhe region is one of the most famous Italian wine-producing regions, especially known for its production of Barolo. This stunning area is filled with rolling hills, soaring castles, and small hilly towns that make it the perfect backdrop for producing this iconic Italian wine. The clay-based soils found within this area are believed to be the secret ingredient behind Barolo's unmistakable taste.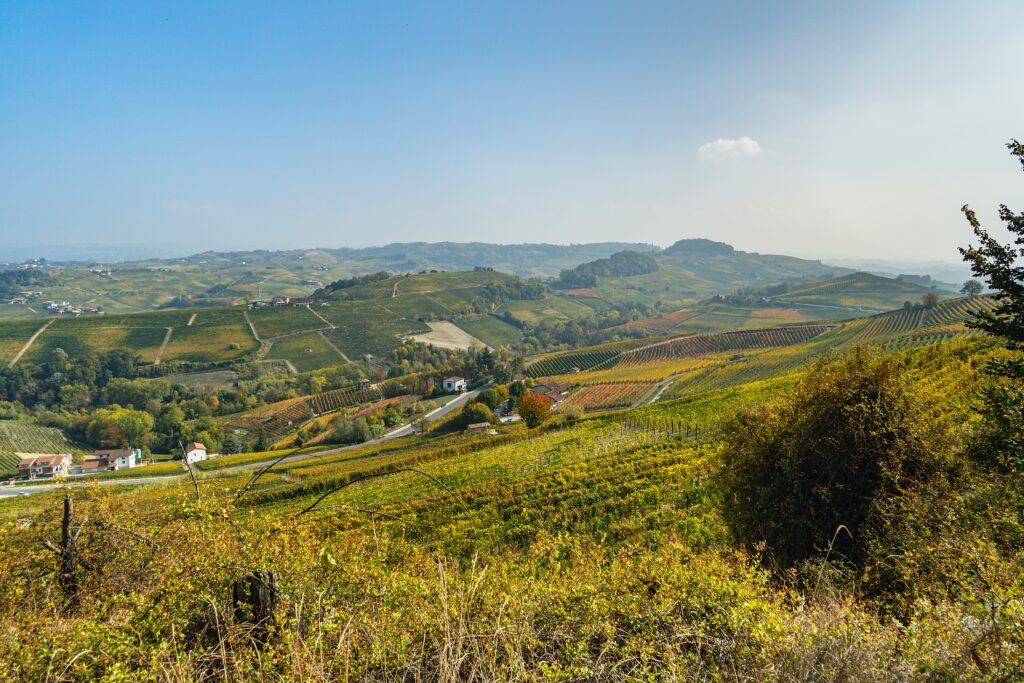 4 – The price of Barolo wine
The price of Barolo wine depends on a number of factors. Generally speaking, the longer is the aging the more expensive a bottle can get.
Secondly, be ready to pay more for single-vineyards Barolo obtained by clusters harvested on a specific hillside or on selected parts of a vineyard. These so-called crus, are renowned for the soil composition, the sun exposure and other qualities.
Sometimes, high-end winemakers select each individual grape for their premium wines, stemming them one by one, by hand, in order to crush only the best ones. Obviously, that has an impact on the price of the final product.
5 – Is Barolo an expensive wine?
If Barolo is an expensive wine, it is a frequently asked question. If it is made with blends of Nebbiolo clusters coming from wider geographical areas or with second-choice grapes, it tends to cost less.
The price of Barolo wine can starts from as little as 20€ per bottle for an entry-level product. Usually, the youngest vintage available on the market is cheaper than bottles aged longer.
Exceptional vintages with an ideal balance between rain and heat throughout the season are also an element that can make Barolo an expensive wine.
6 – Best Barolo vintages
Italyfinestwines published the ranking of the best Barolo vintages from 1995 to 2022. The best Barolo vintages range from the maximum excellence of five stars, to a minimum of one star for the worst vintages.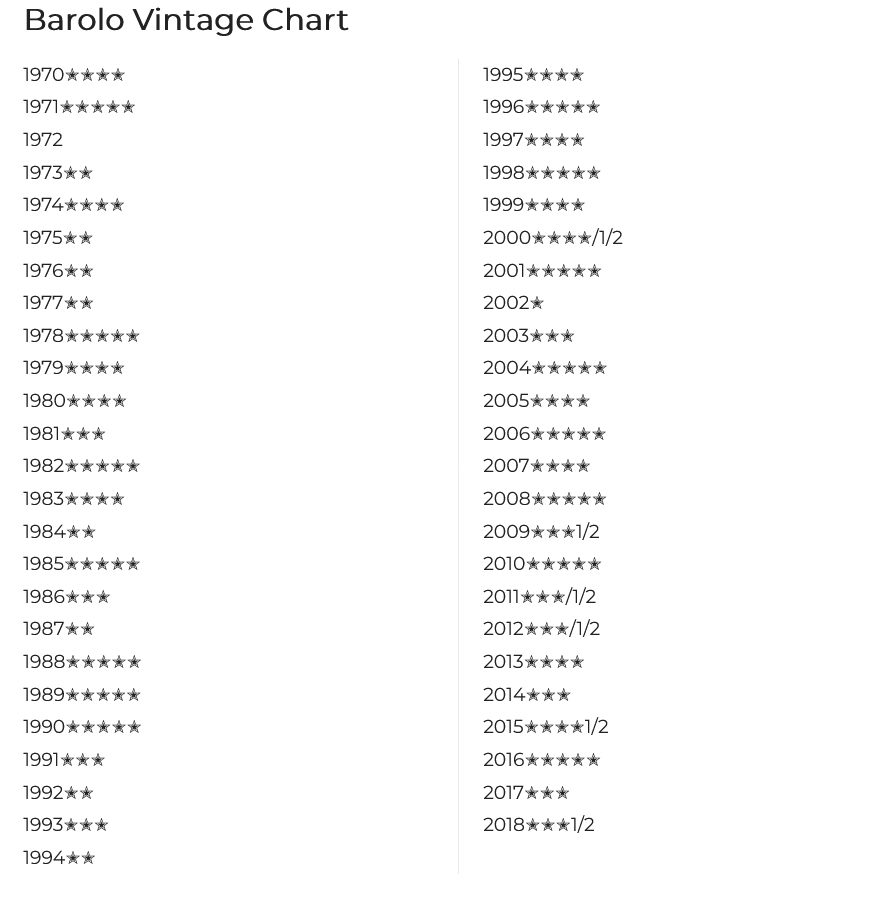 7 – Top 11 facts about Barolo wine: food pairing
As Barolo wine is high in tannins, acidity and alcohol content, the best food pairings are heavy dishes with a high fat content.
Most of the traditional dishes of Piedmont are decadent, prepared with a mix of butter and olive oil, sometimes lard. Acid component like tomatoes are also used in some recipes. Therefore, beef, goose, game, stuffed ravioli or creamy risotto, are all a great Barolo wine pairing.
Barolo wine is also highly aromatic, therefore it can be enjoyed also with rich cheeses such as aged Castelmagno or the velvety goat-milk Robiola di Roccaverano or as an after meal with some dark chocolate, maybe in front of a fireplace.
Lastly, Piedmont is the land of white truffles and mushrooms which are also an ideal Barolo wine pairing.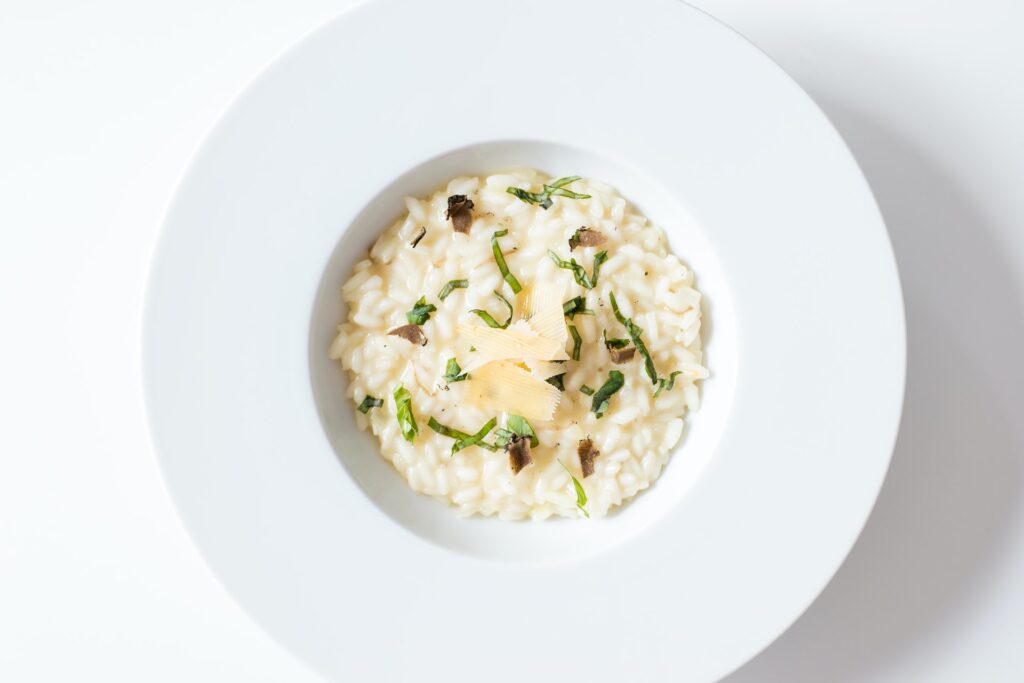 8 – What does a Barolo wine tour involve?
Meet Piemonte arranges a Barolo Wine Tour that suits the expectations of both first-time visitors and wine-enthusiasts.
Before the wine tasting, our Barolo Wine tour involves an in-depth presentation of the Barolo wine region. We drive around the Langhe hills and explore some of the eleven villages of the production area.
9 – Which Barolo winery do we visit?
We visit boutique, family-owned cellars, with a small or medium size production. Meet Piemonte handpicks wineries not only based on the quality of their wines but on the charm of the venue and the personal approach of the winemaker.
We visit cellars that most travelers would probably not find on their own.
The wine tastings of our Barolo Wine Tour involve the comparison of award-winning labels and exclusive single-vineyard harvests coming from different corners of the Barolo wine region.
By the end of the wine tour, our guests have a complete understanding of the evolution of Barolo wine and the different shades that can get.
10 – What do we see on a Langhe wine tour?
Meet Piemonte includes in its Langhe wine tours view points and offbeat details to show the natural set of this beautiful wine region.
In facts, the Langhe hills are a complex system of long and parallel ridges that run from south to north. They degrade from the Ligurian Apennine mountains toward the Tanaro river.
Nebbiolo grapes for Barolo wine are grown between 170 to 540 m above the sea level (558 – 1772 ft) and only on sunny south-east exposed hillsides.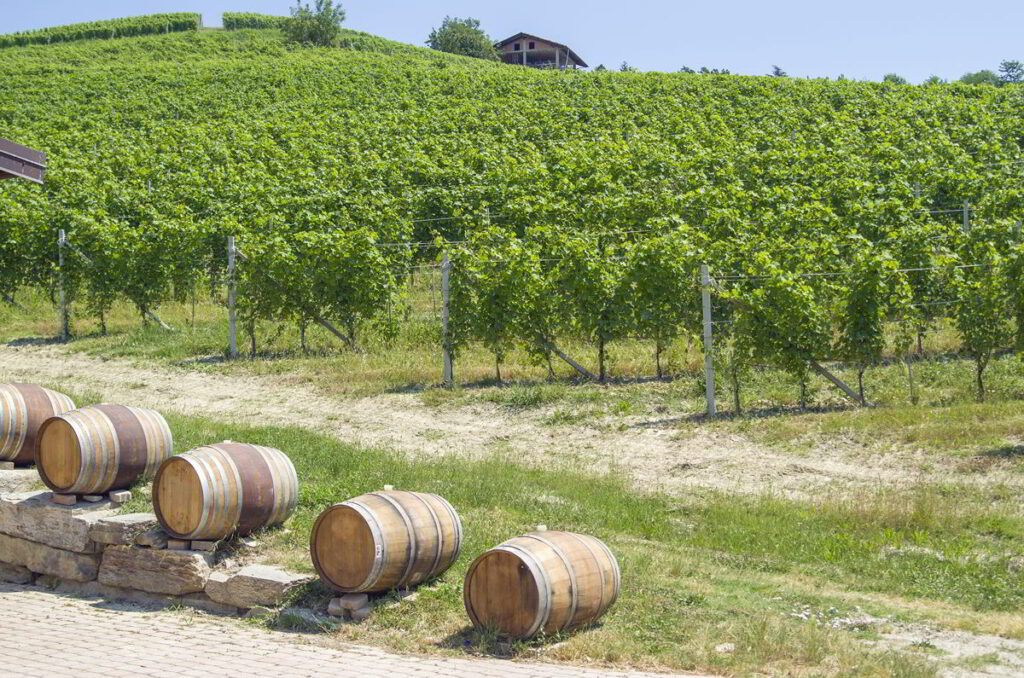 11 – Top 11 facts about Barolo wine: the soil
Among the top 11 facts about Barolo wine, there is the rich soil composition of the Langhe hills.
The soil was originated by sediments, minerals, alluvial moraines left by an ancient sea that used to flood the region millions of years ago.
Clay and marls of the Barolo wine region change considerably within a few miles and they influence the taste of the wine.
Nebbiolo grapes harvested in the northern part of the Barolo wine region give origin to a Barolo wine that is more delicate and feminine compared to a Barolo coming from Serralunga d'Alba.